Back to all news
Reference: greenconsus – Jira and Confluence migration
Recently, we have noticed a great emphasis by Atlassian on the use of cloud versions of its products. For most SME companies, it is much more advantageous to use the most modern and flexible cloud products, where the effort associated with the maintenance of servers and applications is eliminated and the need to ensure the security of applications is minimised.
Atlassian allows you to continue to use its applications (Jira, Confluence and others) even after the support license expires, but without the possibility of updating with new functionalities and improvements and without support from the security point of view. The applications thus gradually become obsolete and do not meet the customer's expectations. They also become a dangerous invitation for potential attackers.
For the reasons mentioned above, the greenconsus company decided not to maintain its solution anymore but to migrate data to the Atlassian Cloud and use cloud versions of the products.
Data analysis was the first step of the migration project, which we implemented in cooperation with the technology company VisionLake. What will need to be migrated? Which users will be affected by the migration? What to do with historical data? How to maintain the consistency of information about employees and users who are no longer active but still need to know their details?
In the second step, a short migration feasibility study was carried out when the company was already actively using Atlassian Cloud solutions, and new data was added daily. The migration had to be done so that the customer did not lose new data (generated by using the cloud version) or old data (stored in the on-premise Server version).
Due to the significant differences between the current cloud version and the server version the customer had, it was not technically possible to implement a one-time migration to the most recent cloud version. Therefore, it was necessary to find out which versions of the applications were still compatible, and thus it was necessary to perform a multi-step migration. It was also necessary to solve the licensing for the given migration since, without licenses, it is impossible to update to compatible versions.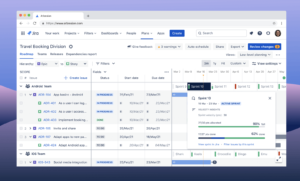 After a successful migration, a data consistency check was performed in both systems, and we used a bit of scripting magic to fine-tune information about users who are not active in the new cloud solution.
And as a bonus, in addition to the migrations, a check of the settings of individual projects in Jira, authorisation settings, notifications and the reduction of the number of Custom Fields was also carried out. The result is a modern and flexible solution with significantly increased data security. Server maintenance and restoration costs have been reduced, and the company has a better overview of resources and can plan work better.
Provided services
Key Technologies
Atlassian Jira
Atlassian Confluence