Back to all news
The second year of Grow2FIT
Even the second year of our existence was accompanied by turbulent developments at home and abroad. It brought events that we thought we would never see again in Europe and that have no place in a civilized society. We have continued with the ideas that led to the foundation of Grow2FIT - to inspire our clients to innovate, to pay attention to the maximum quality of the services provided, and to create a pleasant environment for our colleagues with challenging and exciting projects.
In 2022, we expanded our cooperation with Solargis – a leader in providing meteorological data for evaluating and managing solar energy production. Our 10-member team worked on developing web applications through which Solargis clients access meteorological data and functionalities. We also helped Solargis to find several key internal employees.
We also continued our cooperation with Greyson Consulting and participated in the successful merger of Raiffeisenbank and Equa bank in the Czech Republic. We are also working on exciting projects at Raiffeisenbank International – implementing a new digital bank and, most recently, replacing core banking with a new, modern, cloud-native solution.
Throughout 2022, our experienced DevOps team worked on designing and implementing Deutsche Telekom's new public cloud service. This new public cloud service is fully compatible with the EU Sovereign Cloud initiative and built exclusively on open-source technologies. In the 1st quarter of 2023, the service will be put into a production environment.
Also, this year, we continued delivering entire teams or individual specialists for tech companies such as Unicorn Systems, ADASTRA, Aston ITM, exe, or Millennium.
We are particularly pleased to cooperate with new and inspiring clients such as SentinelOne – a leader in cyber security in the cloud environment from the USA, ČSOB, or the Czech tech company Atlas Group.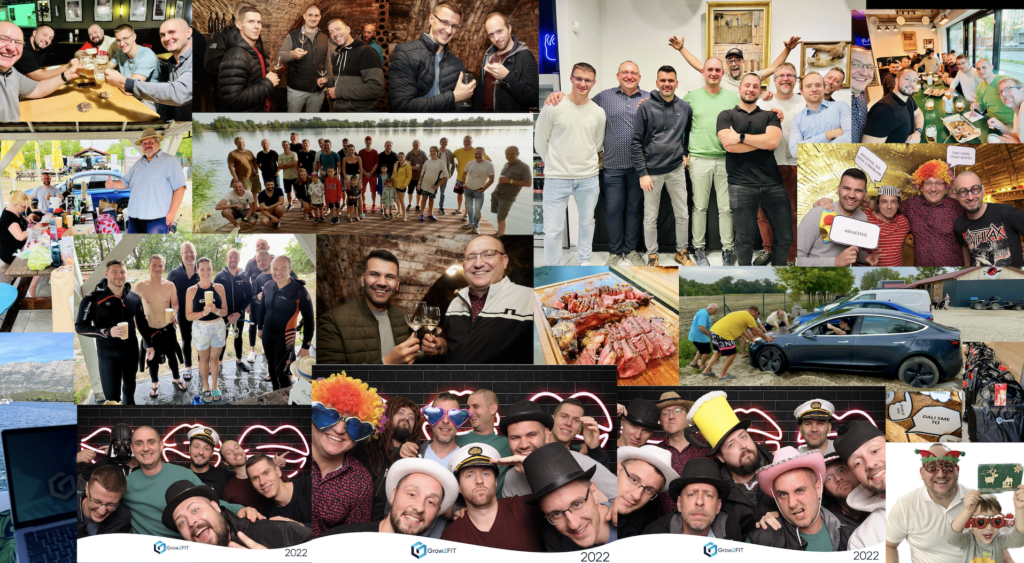 All projects would only be possible to deliver successfully with our team, which this year grew to 35 specialists with experience in various areas such as application development (JavaScript, Java, .NET), DevOps, data solutions, etc. We continued our philosophy of searching for talents outside the Slovak and the Czech labor market, and we expanded the team with new developers primarily from the Balkan countries. Profiles of our most experienced coworkers can be found here: https://www.grow2fit.com/our-team/.
We have expanded the Grow2FIT internal team with a new recruiter so that we can search for IT talents at home and abroad even more effectively.
In a short time, we will introduce you to our new competence in designing, implementing, and integrating solutions built on the Snowflake platform. Snowflake is one of the leaders in cloud data solutions (data mesh, data warehousing, data lakes, and data application development…).
In conclusion, we would like to thank you for your trust and fair cooperation and wish you all the best in the new year and may your work bring you joy and the right challenges.